China National Building Material Group Attends China-LAC Trade Exhibition
From November 1 to 3, the 12th
co-hosted by China Council for the Promotion of International Trade (CCPIT), the People's Government of Guangdong Province, People's Bank of China and Inter-American Development Bank was held in Zhuhai City, Guangdong Province with the theme of "promoting Belt and Road global cooperation, seizing new opportunities for China-LAC economic and trade development". Liu Xincheng, Vice Chairman of the CPPCC National Committee, attended the opening ceremony and delivered a keynote speech. Entrusted by Song Zhiping, Chairman of China National Building Material Group (hereinafter referred to as "CNBM"), Huang Anzhong, Vice General Manager, attended the opening ceremony and accompanied Liu Xincheng to meet with leaders of Latin American countries.
Meanwhile, China-LAC Trade Exhibition was held. As an important supporting event of the Summit, this Exhibition is the largest in size since the holding of the China-LAC Business Summit. As a "national namecard" in the building material industry, CNBM was invited to attend this Exhibition, collectively displaying the great cooperation achievement with Latin American countries and world's leading new materials and technologies.
Liu Xincheng had a tour around this Exhibition with leaders of Latin American countries. When they came to the booth of CNBM, Huang Anzhong elaborated on the new dry process cement production line, hi-tech new energy products and new glass material with the world's most advanced level and CNBM's business development and cooperation achievement in Latin American region. Liu Xincheng showed much interest in new technologies and products of CNBM, watched the booth of thin-film solar panel model and ITO conductive film glass, experienced the 0.12-millimeter ultra-thin glass gleefully and gave full appreciation of CNBM for its rapid development in the area of new energy and materials and international influence of cement equipment and technologies. At present, CNBM has already exported cutting-edge products and service to a number of Latin American countries and implemented lots of building material projects including cement production line and new houses in such countries as Argentina, Paraguay, Dominica and Venezuela. In the future, CNBM will continue to deepen the cooperation with Latin American countries in "Three New Industries".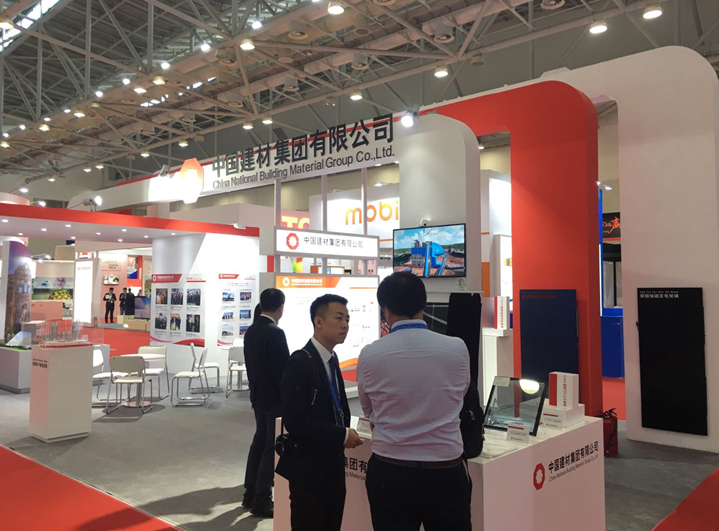 Exhibition, CNBM showed to the Latin American market its confidence and determination to regard it as a key overseas market and speed up the exploration.
Li Zhiwei, General Manager of International Cooperation Department of CNBM, Sun Jian'an, Executive Vice President of CNBM International Engineering, and Meng Qinglin, Chairman of Sinoma Overseas, among others, attended relevant events.